NOTICE:
Dated January 25, 2020
We are currently experiencing a short delay in shipping out orders. This is a short-term issue.
Thank you for your patience and have a wonderful day.
Thank you very much for your interest in the finest bottle cutter money can buy!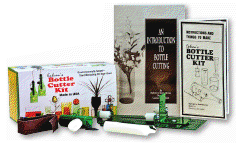 Wholesale application inquiries please fill out Ephrem's Bottle Works New Wholesaler Application Request Form
otherwise please submit your comments or questions by filling out this form on this page. Thank you and have a wonderful day.