September 27
I first want to thank you for your patience as I have had very little opportunities to process orders and/or emails in August and September due to not having a facility to work out of. I have managed to close and now have possession of a property as of September 24th that I can get the business set up to work out of. We are looking forward to this next chapter in our business adventure. For all orders and/or emails, I will try to get to them as quickly as possible during this process. Please be patient with us as we quickly try to finalize this very long-moving process and get back to normal business operations. Thank you for sticking with us through this difficult time and have an amazing day.
Thank you very much for your interest in the finest bottle cutter money can buy!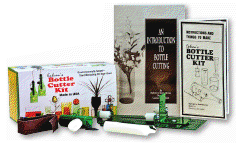 Wholesale application inquiries please fill out Ephrem's Bottle Works New Wholesaler Application Request Form
otherwise please submit your comments or questions by filling out this form on this page. Thank you and have a wonderful day.